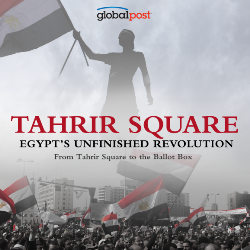 COVERING A REVOLUTION
Our 12 day program, which consisted of three days of seminars and five days of field reporting, brought together 17 exceptional young journalists (8 American and 9 Egyptians) to tell the story of Egypt's 'unfinished revolution,' born of the Arab Spring. Together with veteran journalists Charles M. Sennot and Jon Jensen of the GlobalPost and award winning photojournalist, Gary Knight, our young journalists produced a 25-part "Tahrir Square Special Report", featured on the GlobalPost website, to enlighten audiences on the historic events unfolding in Cairo at the time. These stories capture five "beats" critical to understanding and telling the story of the Egyptian Revolution: Arts & Culture, Economy & Tourism, Human Rights & Justice, Politics & Governance, and Religion & Minorities.
Four months later, we hosted a public forum, "Egypt: From Tahrir Square to Today" at Harvard University to follow up on events happening in Egypt since our time there. The forum was moderated by OHI Board member, Tina Brown, Editor-in-Chief, The Daily Beast & Newsweek, and featured Mona Eltahawy, Columnist at Toronto Star, and The Jerusalem Report & Politiken; Tarek Masoud, Assistant Professor of Public Policy, HKS; and Charles Sennott, Vice President, Executive Editor & Co-founder, GlobalPost.